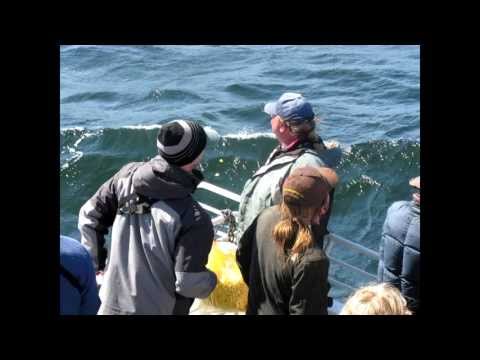 Video with photos and trip tracks best viewed in full screen mode by clicking the rectangular "full screen" icon in the lower right hand corner of the window.  Click the "escape" button to return to normal view.  Detailed Trip Tracks are located at the end of the video.
(Santa Barbara) The star of the April 30, 2011  pelagic show was a Murphy's Petrel that EVERYONE got to see very well as it made multiple passes on the 2011 spring migration Condor Express pelagic from Santa Barbara to the Rodriguez Dome.  Its GPS coordinates were 34.160054° -121.216308° (37.5 naut. miles from Rocky Point, which is close to Point Arguello).
We saw lots of Black-footed and one Laysan Albie, Sabine's Gulls, Arctic Terns, Xantus's Murrelets and multiple breaching Humpback Whales, distant Blue Whales and a couple of Dall's Porpoise.
eBird Totals by Jon Feenstra
Brant 42
Surf Scoter 13
Pacific Loon 78
Common Loon 3
Laysan Albatross 1
Black-footed Albatross 25
Northern Fulmar 9
Pink-footed Shearwater 23
Sooty Shearwater 90
Ashy Storm-Petrel 13
Brandt's Cormorant 13
Pelagic Cormorant 2
Brown Pelican 6
Marbled Godwit 4
Red-necked Phalarope 4,010
Red Phalarope 240
phalarope sp. 1,500
Sabine's Gull 99
Bonaparte's Gull 203
Western Gull 626
California Gull 80
Herring Gull 2
Black Tern 13
Common Tern 17
Arctic Tern 20
Common/Arctic Tern 3
Elegant Tern 2
Pomarine Jaeger 19
Common Murre 18
Pigeon Guillemot 100
Xantus's Murrelet 6
Cassin's Auklet 56
Rhinoceros Auklet 111
* * * * * *
The spring Condor Express pelagic has a record for finding Southern California rarities.   For example: a thousand Sabine's Gulls, a pod of Orca Killer Whales and seven Parakeet Auklets were enjoyed by dozens of birders on 21 Apr 2007 on this spring pelagic trip aboard the Condor Express. The spring 2009 trip enjoyed killer views of a Horned Puffin. The spring 2010 trip was a fantastic day of seabirding headlined with 63 Cook's Petrels. However, the show-stealer was a Murphy's Petrel that came screaming down the starboard side of the Condor Express.   2010 also gave us two Laysan Alabtrosses, a number of Black-footed Albatrosses and a great phalarope show with thousands of Red-necked and many Reds swirling across the seas.