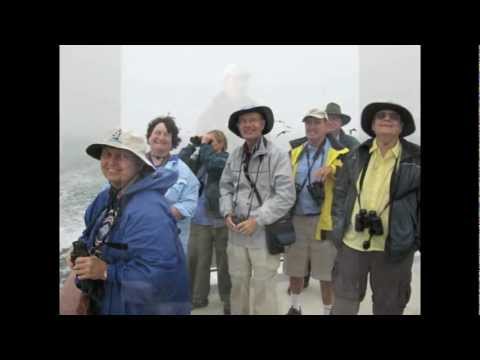 Scroll Down For: Trip Tracks By Matt Sadowski & eBird Totals By Jon Feenstra
Trip Report by Paul E. Lehman
(San Diego) The double-overnight pelagic trip aboard "Grande" from 7AM Mon to 7AM Weds (15-17 Aug) to the edge of the continental shelf well southwest of San Diego (in both San Diego and, mostly, Los Angeles County waters) recorded some excellent birds. Inshore it was calm and with just a light breeze; out at the edge of the shelf there was a 15-20mph NW wind (good for pterodromas!) and moderate swell and chop. Highlights included:
As we left port Monday AM, there were THREE AMERICAN-type OYSTERCATCHERS (2
Americans and 1 hybrid-type is our best guess!) and 1 Black Oystercatcher at Ballast Point.
Inshore, Monday, we birded 9-Mile Bank and 30-Mile Bank, then headed SW. At the shelf-edge, Tuesday, we worked a ca. 44-nm line from NW to SE, mostly 87-95+nm south of San Clemente Island or 130-140nm SW of Point Loma.
DARK-RUMPED PETREL: around mid-day Tuesday, one flew by the bow and quickly away, seen adequately by only several on board, and as a "large pterodroma" by most others.
COOK'S PETREL:  one seen well by almost everyone near the back of the boat early on Tuesday.
LAYSAN ALBATROSS: one came in to the boat with Black-foots on Tuesday.
RED-BILLED TROPICBIRD: total of SEVEN (!) seen on trip, one late Monday near Butterfly Bank, 5 in one relatively short stretch along shelf-edge on Tuesday AM, and one on the way back in late Tues; excellent views of several of them right around boat
WILSON'S STORM-PETREL: one made a single pass past the bow and continued away in San Diego County waters on Monday, 17.5nm W of Point Loma
OTHER SPECIES SEEN INCLUDE:
Western Grebe:  1 swimming in ocean 17.5 miles offshore (!) on Monday
Black-footed Albatross: ca. 7 total, though difficult to determine total due to constant presence of birds behind the boat on Tues
Leach's Storm-Petrel:  150+ total, including many dark-rumped; 2 in SD Co.
Ashy Storm-Petrel:  3 SD waters, 3 LA waters
1600 Black Storm-Petrels: 1500 of which in one raft on 9-Mile Bank
Least Storm-Petrel:  1 briefly seen by few in the large BLSP raft
Xantus's Murrelet: 3 scrippsi near 30-mile Bank and 2 HYPOLEUCUS at shelf edge
Rhinoceros Auklet:  3 unseasonal birds total, 2 SD, 1 LA
Sabine's Gull: 15, including several birds starting only 2-3 miles off Pt Loma
Long-tailed Jaeger: 11 total, with 4 in SD Co. waters
Arctic Tern: 4
and….. the usual Pink-foots, Sooties, Pomarines, phalaropes, Cassin's, 15 Common Terns, etc….   two land birds landed on board–Eurasian Collared-Dove and Brown-headed Cowbird….  the dove rode with us all the way back to Point Loma after consuming several dishes of water and some French Toast.
In all, good numbers of birds at 9-Mile and 30-Mile Banks and then the usual long stretches with relatively few birds as one got well offshore, but there certainly was fine quality!!!
–Paul Lehman,  San Diego
TRIP TRACKS BY MATT SADOWSKI
eBIRD TOTALS BY JON FEENSTRA

Day 1 – Nine Mile and Thirty Mile Banks, San Clemente Basin
Day 2 – At the shelf edge 135 nautical miles off shore – Matt's Bank and the Bell Bank

| | | | |
| --- | --- | --- | --- |
| | 15-Aug | 16-Aug | TOTAL |
| Western Grebe | 1 | – | |
| Laysan Albatross | – | 2 | 2 |
| Black-footed Albatross | – | 20 | 20 |
| Galapagos/Hawaiian Petrel (Dark-rumped Petrel) | – | 2 | 2 |
| Cook's Petrel | – | 2 | 2 |
| Pink-footed Shearwater | 78 | – | 78 |
| Sooty Shearwater | 258 | 2 | 260 |
| Black-vented Shearwater | 4 | – | 4 |
| Wilson's Storm-Petrel | 1 | – | 1 |
| Leach's Storm-Petrel | 27 | 138 | 165 |
| Ashy Storm-Petrel | 8 | – | 8 |
| Black Storm-Petrel | 1,657 | 3 | 1660 |
| Least Storm-Petrel | 1 | – | 1 |
| Red-billed Tropicbird | 1 | 6 | 7 |
| Brandt's Cormorant | 2 | – | 2 |
| Double-crested Cormorant | 50 | – | 50 |
| Brown Pelican | 507 | – | 507 |
| Snowy Egret | 1 | – | 1 |
| Black-crowned Night-Heron | 2 | – | 2 |
| Semipalmated Plover | 1 | – | 1 |
| American x Black Oystercatcher (hybrid) | 3 | – | 3 |
| Black Oystercatcher | 1 | – | 1 |
| Spotted Sandpiper | 1 | – | 1 |
| Marbled Godwit | 20 | – | 20 |
| Least Sandpiper | 6 | – | 6 |
| Red-necked Phalarope | 77 | 1 | 78 |
| Red Phalarope | 60 | 5 | 65 |
| Red-necked/Red Phalarope | 80 | – | 80 |
| phalarope sp. | 11 | 17 | 28 |
| Sabine's Gull | 14 | – | 14 |
| Heermann's Gull | 353 | – | 353 |
| Western Gull | 340 | – | 340 |
| California Gull | 2 | – | 2 |
| Caspian Tern | 5 | – | 5 |
| Common Tern | 18 | – | 18 |
| Arctic Tern | – | 3 | 3 |
| Common/Arctic Tern | 4 | 2 | 6 |
| Royal Tern | 10 | – | 10 |
| Elegant Tern | 44 | – | 44 |
| Pomarine Jaeger | 8 | 1 | 9 |
| Parasitic Jaeger | 2 | – | 2 |
| Long-tailed Jaeger | 4 | 7 | 11 |
| Parasitic/Long-tailed Jaeger | 1 | – | 1 |
| Xantus's Murrelet | 3 | 2 | 5 |
| Cassin's Auklet | 10 | – | 10 |
| Rhinoceros Auklet | 3 | – | 3 |
| Eurasian Collared-Dove | 1 | – | 1 |
| Mourning Dove | 1 | – | 1 |
| Barn Swallow | 5 | – | 5 |
| Brown-headed Cowbird | 1 | – | 1 |